cross-pollinate. educate. activate.
At the roots of Canopy City are the various community, youth and tech startup programs that we are continually launching, beginning with the Canopy Social Impact Event Series kickoff that occurred on January 28, 2016 at Tufts University's Cohen Auditorium. The event featured a keynote by MIT luminary Noam Chomsky and a panel of renowned thought leaders from various fields, all of whom were speaking on the topic of the role of innovation in peace and international security.
We believe that by sparking untapped collaborations and the cross-pollination of ideas through our events and programs, we can collectively tackle our most complex challenges more efficiently and more effectively.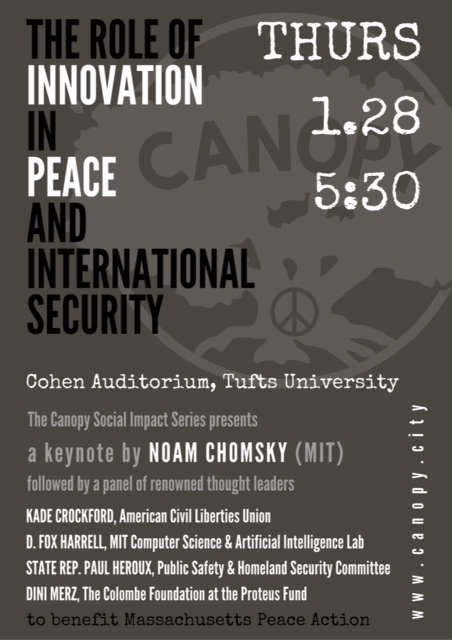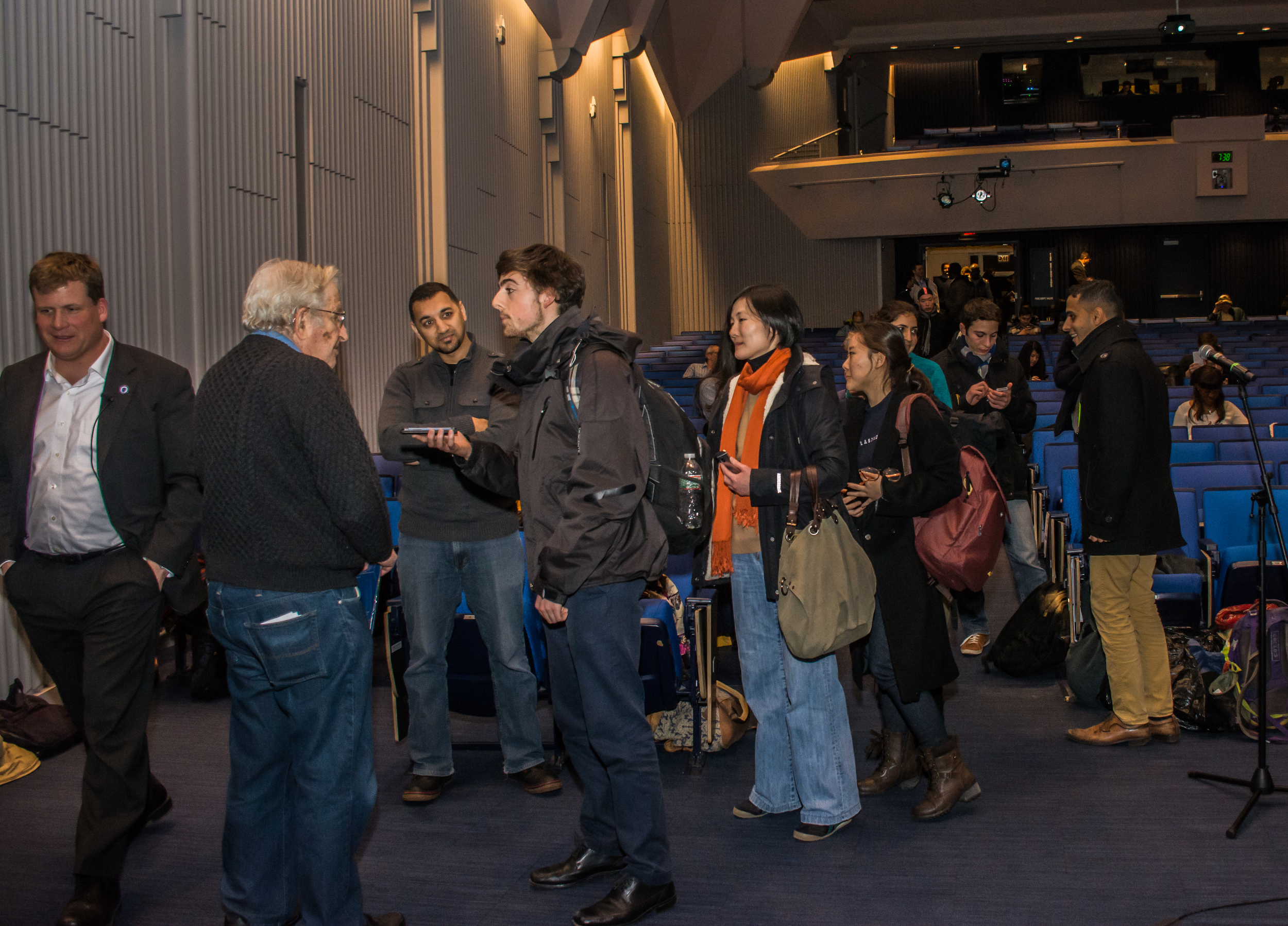 The Canopy Social Impact Event Series
The Canopy Social Impact Event Series is a monthly vibrant discussion, hosted by Canopy , which focuses on the most pressing local, national and global issues facing us today. By bringing together local, national and internationally renowned experts who are working towards solutions to the same problems, in distinctly different realms--such as government, academia and the tech sector--we can galvanize their efforts and amplify their positive impact.
Creating diverse panels that are open to the public will also serve as a catalyst for reaching equally diverse audiences.
What also makes Canopy gatherings different is our event format. Our keynote speakers illuminate the framework for the moderated panel discussion that follows. What is also unique is the addition of a "Canopy Featured Nonprofit" at every event. At the end of the moderated panel discussion, we will introduce our featured nonprofit, who is hitting the respective challenge head on.
So in three words, the objective of the Canopy Social Impact Event series is to: Cross-pollinate. Educate. Activate.
Canopy Somerville Startup Sessions
Canopy Somerville Startup Sessions are presented in partnership with the Davis Square-based technology company Velir.
The Canopy Somerville Startup Sessions are held once per month and feature six Boston/Cambridge and Somerville tech- and life sciences- focused startup companies.
Each company presents their business model and some even offer tech demos. After each presentation, audience members can ask questions to that respective company's co-founders and also provide feedback.
These events are streamed live and also made available to all students in the Somerville Public Schools. The Startup Sessions will also be integrated into the Somerville-Canopy Youth Entrepreneurship Education curriculum.
Somerville High School
Fab Lab Incubator located at Canopy
Canopy City is proud to collaborate with the Somerville High School (SHS) Fab Lab in the creation and implementation of a youth entrepreneurship program in its space. The SHS Fab Lab Incubator will act as an extension of the school day and a catalyst for students' learning to develop into creative, personally meaningful and potentially profitable breakthroughs.
This initiative will serve as a vehicle for bringing ideas through the ideation process and for inspiring new entrepreneurs. The guidance provided by instructors, mentors, skilled technologists and Canopy cofounders means that a student with an idea does not require any specific skills, experience or qualification to begin; instead, we will build upon the rich body of knowledge that students bring from their lives, cultures and the Somerville community.